CERTIFIED BROW COSMETIC SPECIALIST AND MORE
Offering all things Brows and lashes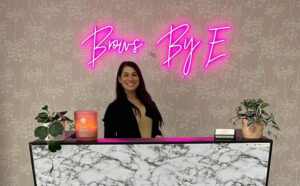 Welcome to Brows by E
I'd like to share with you a little about myself and my business.
I am a certified cosmetic tattoo artist that is forever adding new services to my business. I offer all services from brow Wax & Tint, Lash services including Lash Extensions to Cosmetic Brow Tattoo's.
Brows by E is located on Nelson Street, Wallsend, NSW, 2287
Why did I choose cosmetic tattooing? As someone herself who experienced a significant amount of hair loss over the last 10 years, I realise how much of an impact this can make to an individual and how this can decrease one's confidence and effect their self-esteem. I Started in the hairdressing industry as a school leaver. Deciding that wasn't where I could see myself in the future, I Left the hairdressing industry. Over the years I realised exactly what part of the beauty industry was for me. I started my own business and was trained in Brow tattooing/Microblading by only the best. From here over time, I have created a technique of my own.
I have been blessed to create brows for clients who not only would like to have perfect brows for beauty reasons, but clients who have been through Chemo, Alopecia and Telogen Effluvium. I have always respected my client's confidentiality. Creating smiles and growing confidence for my clients is the reason why I do what I do.
If you are looking at enhancing your current brows, contact Brows by E today. I would love to work with you to create the most natural, beautiful brow and have you walking out with the confidence you deserve.
Ebony x
Trading
Hours
Monday   Closed
Tuesday   9am – 6pm
Wednesday   Appointment only
Thursday   9am – 7pm
Friday   9am – 6pm
Saturday   9am – 1pm
Sunday   Closed
The lovely Ebony is truly gifted and obsessed with perfection when it comes to the perfect brows. Such an affordable investment. Highly recommend.

Kim Henshaw


April 21, 2022

Just Wow! I am so happy with my new beautiful brows. Ebs has done an amazing job. I love how natural they still look but so defined, full and beautiful. I was quite nervous about the pain factor but the numbing cream Ebs used is Amazing. I didn't feel a thing. Highly Recommend this lovely lady to give you gorgeous brows. 👌🏼😃

Natasha Schatz


December 2, 2021

100% Recommend Ebony , love my new look and can't wait to show my brows off. She is amazing and will definitely be coming back.

Maree Kennedy


February 25, 2022